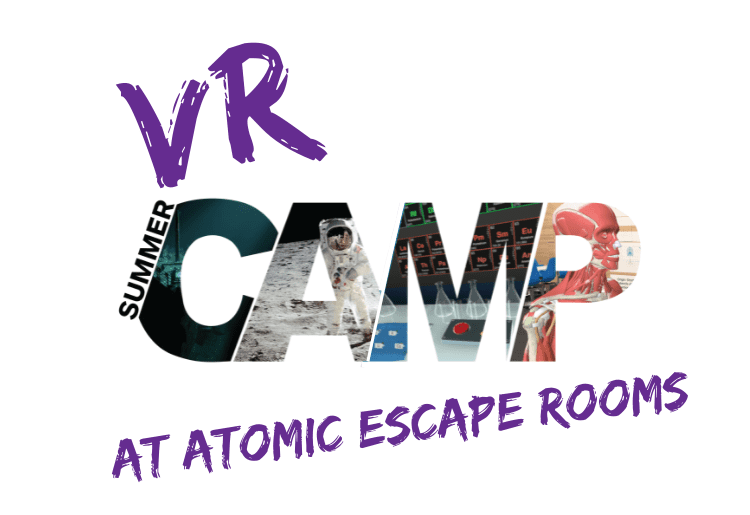 Leap into a New Type of Summer Camp
Soar through the galaxy, dive into molecules, and explore the wonders of the world in Virtual Reality Summer camp at Atomic Escape Rooms. Give your kids a head-start in the future of education in a memorable exciting and educational VR summer camp, made in partnership with STEM educators.
Experience Learning Like Never Before!
Spend your school breaks with fun and educational VR curriculum crafted by educational professionals across North America. The summer camp will include virtual reality experiences that teach topics such as history, biology, science, and astronomy.  The program is designed with balance in mind to ensure the attendees get an optimal mix between VR fun and games, arts and crafts, while still learning.
Dates

One week camps run from June 20 to August 19. Single-day options are available.

Time

Camp hours are from 9 a.m. - 3 p.m. on weekdays.

Age

Recommended for ages 10-14.

Cost

$395 weekly, $99 daily

Sibling Discounts: *
Two children: $350 each
Three children: $300 each

*Children must be on the same reservation

Meals

Students must bring their own lunch. A snack and refreshments will be provided. 
(A refrigerator is available for storage.)
Sign up for VR Summer Camp
Week one will take our campers through an exciting world of different subjects. Participants will explore our solar system and space, they will even land on the moon as part of the Apollo 11 mission. Next, campers will take a deep dive into the world of STEM, exploring atoms, molecules, cells, chemical reactions, and Snell's Law. Campers then move into creative storytelling, challenges, games, and more.
Sign Up
To register, choose from the weeks listed below.
In this exciting week, our campers explore the wonders that make our world unique. We take a deep look into our Earth and its history. We walk with the dinosaurs, explore our atmosphere, water cycles, and oceans. Our campers get to swim with different ocean animals and take a closer look at the incredible world of engineering. 
Sign Up
To register, choose from the weeks listed below.
Week of June 27- July 1, 2022
Don't want to sign up for an entire week? We also offer single day registration. 
This camp is also available for private bookings during the school year for groups and educators. For more information, please contact us.